Announcing Performances of the Somerville Arts Council's Art Assembled AiR Program
Artists have been hard at work in the studios to bring you in-progress showings, performances, and experiences from May into the summer.

You can join these artists in venues such as the Center for the Arts at the Armory, at ArtAssembled at Assembly Row, and along the Mystic River! All in Somerville!
COMING UP!
Fri., September 23rd @6:30 + 7:30pm
Rain Date: Sat., September 30
Emotive Land
Along the Mystic River/ Blessing of the Bay Boathouse
Lonnie Anela O' kalani Neff Stanton
Dance shaped for the specific outdoor site it is presented. Audience is encouraged to move and follow us as we dance in a few specific locations along the river. You have full autonomy to get closer or stay far. We encourage you to change your perspective and not only watch the dance but take in the natural scenery along the water's edge.
The full experience is 25-30 minutes in length. Wear comfortable clothing and shoes as the audience is encouraged to walk around the park as we dance and limited seating is available.
When: Tuesday, June 14th
1st performance 6:30pm, 2nd performance 7:30pm
(rain date Wednesday, June 15th, same times)

We Meet @:
Blessing of the Bay Boathouse
32 Shore Dr, Somerville, MA 02145
1 mile walk from the Assembly Row T station
(MBTA Orange Line) Located right off of 93 with limited parking.
There is a parking lot at the Boathouse or 2 hour street parking available on Shore Dr.
Please let us know you are coming by RSVP below!
PAST EVENTS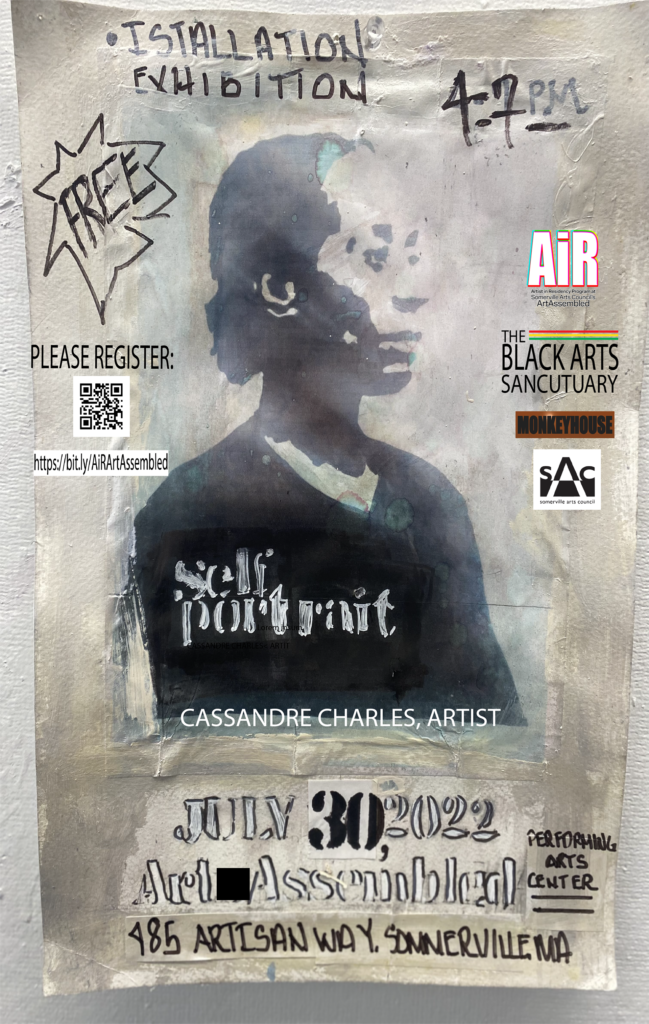 Sat., July 30 4pm-7pm
Cassandre Charles
'Self-Portrait'
ArtAssembled @Assembly Row
495 Artisan Way, Somerville, MA 02145
Interdisciplinary artist Cassandre Charles' 'Self-Portrait' is a multi-media art installation with the artist as the only visual subject. Cassandre is taking on archiving the multiple figure and portrait art created by artists using varying levels, styles and mediums. Through this process Cassandre is developing her own artistic style and language as a Black 'ARTchiver'.
Artist Statement: Representation of the Black artists in global art history. The words 'diversity and inclusion' are hot key-words for institutions, but how do the decisions to include our contributions to American art history happen if we do not share ourselves? Retracing traditional and contemporary methods to display my own portraits both created by my hands and other artists' is exhausting and exhilarating. The decision to be the only subject had to be when I finally felt that I was grounded enough in my physical and mental health to process, make and exhibit works that reflect my consciousness of the scale and size of defining moments in my own life that are on the table for discussion with others seeking to uphold and nurture the black artist.
This work is supported by the Somerville Arts Council ArtAssembled Residency Fellowship, The Black Arts Sanctuary and Monkeyhouse.
Itinerary:
4:00 – 6:00 Open Gallery
6:00-6:20 PM – Film Showing, 'This Black Artist, A Digital Visual Journal'
6:30-6:50 – Artist Mini-Talk
6:50 – 7:00 – Gratitude in the Body, Community Embodiment
FOR YOUR QUESTIONS:
UPON REGISTERING/CONFIRMATION: REPLY
06/08 @7pm
Claire Lane & Caroline Bradburry | detrius Dance
Rebecca McGowan & Jackie O'Reilly
Brandy White
"in the Ether" explores how our Roman Catholic upbringing formed our experience of womanhood. With the influence of women represented in biblical lore and myth, we hope to further investigate the cyclical transformations that occur in our lives. – Claire + Caroline
As dancers who often work with musicians, we are deeply interested in musical textures. We are playing at the edges, blurring music and dance. This residency will support an exploration into ways dance can create layers in arrangement. – Rebecca + Jackie
Once Upon A Dream. This artistic style originated when Brandi woke up from a sleepless night…. A night of thunder. A divine manifestation of cosmic order. – Brandy
Center for the Arts at the Armory POP Program
COVID policy: All audience members are required to wear a mask during the performance.
05/31 @7pm
Caitlin Canty
Catherine Siller
Jessica Roseman
"I want to leave my body, but I want to take my body with me when I go" is an autopsy of technique as it was taught to me, and it is dedicated to my teachers. I am thrilled to collaborate with composer and multi-instrumentalist Anthony Brocatto. – Caitlin
"The Mysteries of Life: a Queer Nature Walk" is a multimedia installation and performance that uses true stories of animals' social interactions and mating rituals to challenge heteronormativity and affirm queerness and transness as natural. – Catherine
Jess is making a new long solo dance that explores the untapped energy of hot flashes, and incorporates eating a mango. – Jessica
Center for the Arts at the Armory POP Program
COVID policy: All audience members are required to wear a mask during the performance.
05/26 @7pm
Adriane Brayton& Fernadina Chan
Continuum Dance Project
Open Rehearsal/Showing
Continuum Dance Project is working on the creation of a new evening length work exploring multi-layered connection with Michael Alfano's interactive sculpture "Cubed". This cross-disciplinary dance will explore race and gender from the female perspective.
Art Assembled @ Assembly Row
RSVP information coming soon!
05/16 + 05/18 @7pm
Wendy Jehlen | ANIKAYA
Open Rehearsal/Showing
The ensemble of ANIKAYA's The Women Gather will be in residence at ArtAssembled in Assembly Square from May 13-23. On May 16 and 18 from 7pm-8pm we invite you into the space to witness elements of the performance as we create them. We will be working on durational voice/movement/weaving scores that will be part of the stage performance. Witnesses must be vaccinated and mask while in the space
For more information, please visit www.artassembled.org or www.somervilleartscouncil.org
Arts at the Armory's Performance Opportunity Program (POP) is generously supported by Cambridge Trust, Mass Cultural Council and Somerville Arts Council. Photo credit: Olivia Moon Photography